Close Achievement Gaps in Education: Advanced Cognitive Training to Improve Focus, Self-Control and Memory
ACTIVATE™: Cognitive Training Software & Physical Exercise Program
Measures and Improves Focus, Self-control, and Memory
Delivers Real-Time Cognitive Data
Greatly Improves Academic Outcomes
ACTIVATE™ Provides Solutions for Educators Facing Challenges With:

Achievement Gaps Associated with Poverty and Race
The ACTIVATE™ Program has been proven to close achievement gaps associated with poverty, race, and low performing schools– raising Math and Reading proficiency by almost 2 grade levels in some cases.

Learning & Behavior Problems Associated with Learning Disorders
ACTIVATE™ improves focus, self-control, and memory for students with ADHD and other learning disorders–making it possible for children with learning disorders to more effectively participate in classroom learning.

Improving Academic Outcomes for All Students
The ACTIVATE™ program has been scientifically designed to increase neuroplasticity and exercise cognitive skills. Drastically improving low performing schools, ACTIVATE is more cost effective and works better than one-on-one tutoring.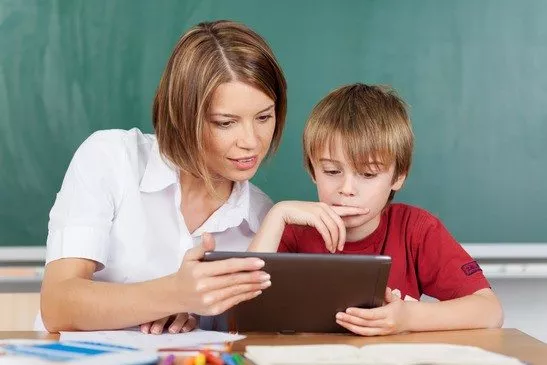 More Effective than One-on-One Tutoring
ACTIVATE™ is an exciting and innovative cognitive training program specially designed to enhance and develop learning skills such as focus, self-control, and memory for all students– but especially those with educational challenges associated with poverty, race, trauma, ADHD, Autism, and other developmental disorders. Students will be motivated and eager to learn when they discover the joys of executive function cross-training.
See Immediate ROI with the Detailed Teacher Dashboard
ACTIVATE™ improves and evaluates each child's focus, self-control and working memory. Daily reports show progress, attendance, test scores, and individual performance. The real- time data reports are an invaluable tool for IEP's, parent-teacher conferences, and behavior intervention meetings. In addition to individualized results, data is available to measure the averages of all students' progress and percentile scores in comparison to their grade level peers. This information provides educators with a clear picture of the impact the program is having on students, and information about each child's executive functions that can be used to further personalize their instruction.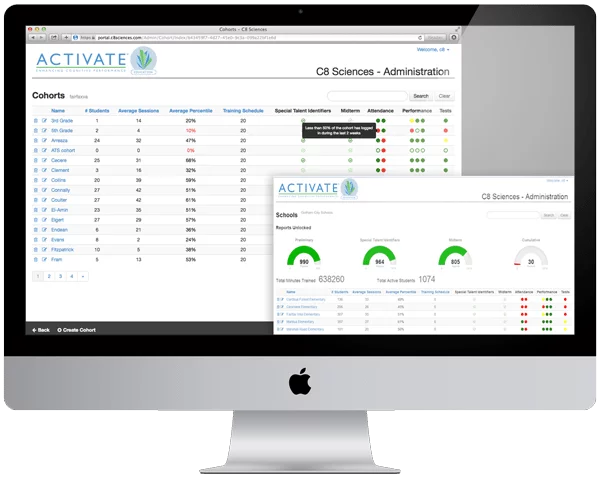 A Revolutionary Tool for Closing the Achievement Gap in Education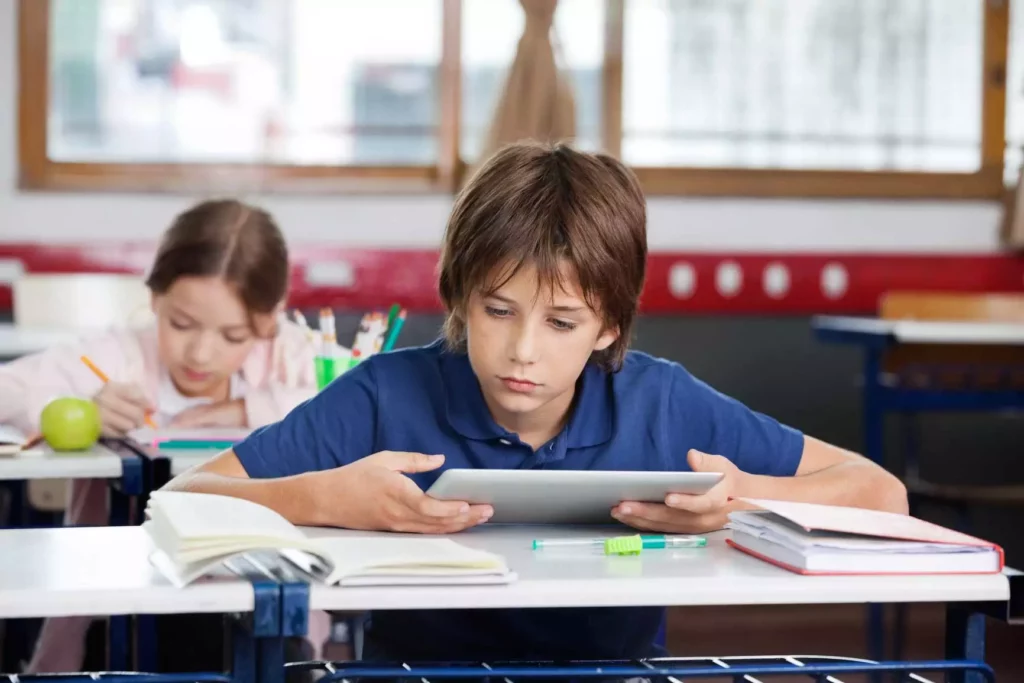 See Immediate ROI with the Detailed Teacher Dashboard
This vigorous combination of brain training and physical exercise is based on three to five 20-30 minute sessions per week. The schedule is flexible and can be incorporated easily into the school day. Data indicates that students show ongoing increases in student attention span, cognitive development, and reading retention from the onset of implementing the program.
Students display improvements in focus and are able to retain information that once was lost. Statistics gathered from participating schools and an NIH-funded research program at Yale Medical School reveal some astounding numbers when comparing control groups of students to students using ACTIVATE™. The study shows increased reading levels and significant reading comprehension improvements. Advancement in math levels in ACTIVATE™ students vs. the control group was noted after completing a specified number of sessions. Language proficiency, self- regulation and cognitive flexibility improved significantly in the group of students utilizing ACTIVATE™. The program provides students with a challenging and engaging way to learn the skills they need to be successful both in school and in life!