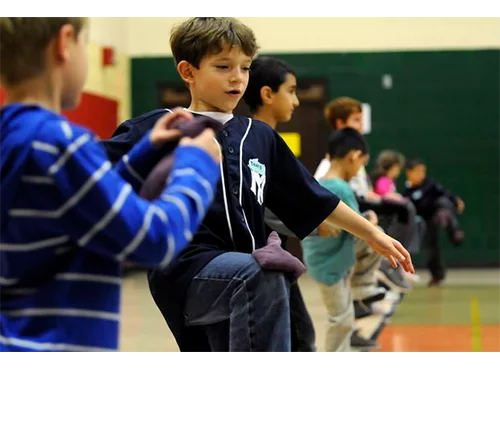 Develop the body and brain together!
Exercise cognitive skills with whole-body movements, games and activities that make it fun to focus.
Physical Exercise for Kids: Program to Increase Cognitive Health
The ACTIVATE™ Physical Exercise Program has been scientifically designed to increase neuroplasticity and exercise the same cognitive skills as the computer program. Designed by Dr. Jinxia Dong, a former Chinese National Gymnast, and a professor of sports studies at Peking University, together with Dr. Wexler, the ACTIVATE™ program employs a variety of fun and challenging athletic skills that start off simple and grow increasingly complex.
The Physical Exercise Program is a Group Activity
More than 100 different physical exercise for kids and activities for groups of 20 students or more, in lessons of 20, 30 or 45 minutes in duration. The physical exercise program includes a variety of teambuilding games, incorporates social intelligence skills, and emphasizes cooperation over competition. Written for either physical education teachers or general classroom teachers, the curriculum includes a 200-page handbook with floor charts, diagrams, and step-by-step instruction on getting the most out of the program.
Built to the highest standards for K-3 physical education
Our physical exercise program was designed in consultation with international physical education experts at the school, district and state levels – so we were able to create a program that reflects the highest standards for young student physical education. Our program can be used as a classroom or supplemental program to fulfill many state physical education requirements for elementary grades. Our lessons have been developed in consideration of the SHAPE America's National Standards & Grade-Level Outcomes for K-12 Physical Education.